2018 CELEBRITY DANCE COMPETITION AWARDS
– ATLANTA, GA
1st Celebrity Spirit Award given
Premiere Division Solos Jazz Category
High Gold – Emily Mitchell "All That Jazz"
Senior Division Solos Tap Category
1st Place High Gold – Karlie "John Song"
Duo/Trios Lyrical Category
High Gold – Karlie & Madelyn "I Found"
Teen Division Medium Groups Contemporary Category
2nd Place High Gold – "Wicked"
Lyrical Category
2nd Place High Gold – "The World Is Unraveling"
Jazz Category
1st Place High Gold – "Burlesque"
Small Groups Tap Category
2nd Place High Gold – "Still I Rise"
Duo/Trios Tap Division
1st Place Platinum – Ally & Keely "Runaway Baby"
2nd Place High Gold –Maria & Maya "Bruno"
Solos Tap Division
1st Place Platinum – Ally "Dibbidy Dop"
2nd Place High Gold – Maya "Walk This Way"
3rd Place High Gold – Maria "Shake Senora"
Lyrical Division
7th (out of 20) High Gold – Eliza "She Used To Be Mine"
OVERALLS:
Duo/Trios – 3rd Overall – "Runaway Baby"
Judges' Choice Award – "Most Rhythmic" –
"Dibbidy Dop" – Ally
Preteen Division Large Groups
Production Category
2nd Place Platinum – "Oz"
Medium Groups Tap Category
1st Place Platinum – "42nd Street"
Small Groups Jazz Category
2nd Place High Gold – "Sax"
Duo/Trios
1st Place High Gold – "Candyman"
SolosJazz Category
4th High Gold – KK "Them Girls Be Like"
6th High Gold – Khaileigh "Ain't Nothing Wrong"
7th High Gold – Preslee "Wings"
Judges' Choice Award – "Saturday Night Swag" – "Mi Gente"
OVERALLS:
Groups – 3rd Overall – "42nd Street"

Intermediate Division Small Groups Lyrical Category
3rd Place High Gold – "Brave"
Jazz Category
High Gold – "Sing"
Duo/Trios Jazz Category
2nd Place High Gold – Khaileigh & Kristina "Queen Bee"
OVERALLS – 2nd Place Overall Duets – "Queen Bee"
Junior Division Medium Groups Hip Hop Category
1st Place High Gold – "Candy Shoppe"
Jazz Category
1st Place High Gold – "Grease"
Small Groups Tap Category
1st Place High Gold – "Happy Days"
Lyrical Category
1st Place High Gold – "When You Believe"
OVERALLS:
GROUPS – 3rd Place Overall – "Happy Days"
Duo/Trios Tap Category
1st Place High Gold "Respect"
Solos Tap Category
1st Place High Gold – Chloe "Blue Suede Shoes"
Hip Hop Category
1st Place Platinum – Kristina "Welcome to Atlanta"
2nd Place High Gold – Camille "C to the J to the B"
Jazz Category
3rd Place High Gold – Autumn "Shake the Room"
OVERALLS SOLOS –
1st Overall – "Welcome to Atlanta"
2nd Overall – "Blue Suede Shoes"
3rd Overall – "C to the J to the B"
Judges' Choice Award – "Bravo Award" – "Blue Suede Shoes"
Convention Scholarship Award – Kristina Alfred
Dance Down -
Minis
Out of 9 finalists – 1st Place Overall – Kristina, 2nd Place Overall – Camille
Juniors Semi-finalists – KK
Seniors Semi-finalists – Eliza, Ethan, & Keely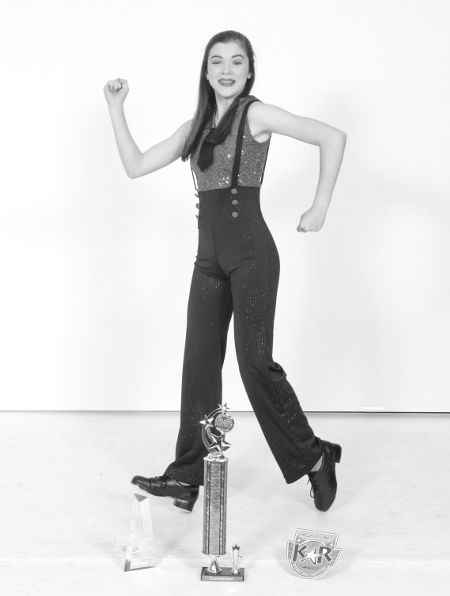 2018 KAR NATIONAL FINALS
– PANAMA CITY, FL
"Dibbidy Dop" – Ally Craig – Elite Top 1st Place, 2nd Overall Secondary Solo,
5th Runner – Up National Teen Miss Dance
"Runaway Baby" – Ally Craig, Keely Davidson – Elite Top 1st Place, 1st Place Duet/Trio Tap
2nd Place Overall Intermediate Duet/Trio
u
"Ain't Nothing Wrong With That" – Khaileigh Cain – Elite Top 1st Place, 1st Place Jazz,
Overall Primary Solo
"Them Girls Be Like" – Nikalah Rolle – Top 1st Place, 2nd Place Jazz,
10th Overall Secondary Solo
2018 PULSE NATIONAL FINALS
– LAS VEGAS, NV
'Welcome to Atlanta" – Kristina Alfred – 2nd Place Overall Solos, Gold Medal
Official Pulse Counselor
2018 KIDS ARTISTIC REVUE COMPETITION
– BIRMINGHAM, AL
42nd Street - Elite Top 1st, 1st Overall, Top Superline, and Australia Invitation
A Little Wicked - 1st Place, Hollywood Invitational
Ain't Nothing Wrong - Elite Top 1st, 4th Overall
All That Jazz - Top 1st Place
Believer - 1st Place
Brave - Top 1st Place
Bruno- Top 1st, 4th Overall
Burlesque - Elite Top 1st, 1st Overall, Australia Invitation, Best Costume Award
C to the J to the B - Top 1st, 5th Overall
Candy Shoppe - Top 1st, 5th Overall
Candyman - Top 1st, 5th Overall, NYC All Star, Hollywood Invitational
Cold-Hearted Snake - Top 1st Place
Dibbidy Dop - Elite Top 1st, 1st Overall, 2nd Runner Up Miss Teen Dance
Grease - Top 1st, Best Costume, Most Entertaining, Primary Video of the Week
Happy Days, Elite Top 1st, 3rd Overall
I Found - 1st Place, Hollywood Invitational
John Cougar, John Deere, John 3:16 - Elite Top 1st, 8th Overall, 5th Runner Up Miss Dance
I Look To You - Top 1st, NYC All Star, Hollywood Invitational
Mi Gente - Elite Top 1st, 2nd Overall
Oz, Elite Top 1st, 2nd Overall
Queen Bee - Top 1st
Respect - Elite Top 1st, 1st Overall
Runaway Baby - Elite Top 1st, 1st Overall, Australia Invitation, Pulse Scholarship
Sax - Elite Top 1st, 2nd Overall
Shake Senora - Elite Top 1st, 10th Overall
Shake the Room - Top 1st, 10th Overall
She Used To Be Mine - Top 1st
Sing - Top 1st, NYC All Star
Still I Rise - Elite Top 1st, 3rd Overall, Hollywood Invitational
Them Girls Be Like - Elite Top 1st, 2nd Overall, 4th Runner Up Miss Teen Dance
The World Is Unraveling - Elite Top 1st, 1st Overall, Hollywood Invitational
Walk This Way - Elite Top 1st, 10th Overall
Welcome to Atlanta - Elite Top 1st, 3rd Overall, 3rd Runner-Up Miss Petite Dance
When You Believe - 1st Place
Wings - Top 1st
Dazzlin' Devils (CHS) - Elite Top 1st, 1st Overall, NYC All Stars
24 SEVEN DANCE CONVENTION & COMPETITION
– ATLANTA, GA
Congratulations to those who received Class Scholarships:
Tap - Ally, Kayla, Emily N.,
Ballet - Addison C., Desiree,
Jazz - Crystal, Kristina!
Congratulations to KK who was an audition finalist in the Junior Room and was awarded a scholarship!
Competition Awards at 24/7 included:
2nd Overall for 42nd Street
Best Hip Hop for Mi Gente
Best Specialty for Oz
Showcase Award for 42nd Street
1st Overall for Grease
Best Tap for Happy Days
Best Lyrical for When You Believe
5th Overall for Welcome to Atlanta
10 of our dances received High Golds
(all in their respective age divisions as well as group, line, or solo)!!
2018 PULSE DANCE COMPETITION
– ATLANTA, GA
Congratulations to our dancers who represented Elite at Pulse Convention!
The dancers included in Camp Pulse- Kristina, Camille, Autumn, Adalyn, Jaden, Khaileigh, Addison, Desiree, Crystal, and in Pulse - Ally, Eliza, Kalie, Keely, and Nikalah (KK).
Awards received:
Studio Spirit Award
Princess Award- Autumn
Camp Pulse Scholarships:
Jaden
Khaileigh
Crystal
Adalyn
Addison
Desiree - Studio Leadership Scholarship
Special Awards for Battle Royale: Runaway Baby, CtotheJtotheB, Blue Suede Shoes, Welcome to Atlanta
Pulse Full Scholarship: Nikalah (KK)
Pulse Las Vegas scholarship-Keely
Invitation to perform at the Gala Pulse Vegas -Them Girls Be Like
Battle Royale Finals invite to Vegas-Brave
Last, but not least, of all Camp Pulse and all Pulse participants, they choose a handful to become Pulse Counselors, who can attend all Pulse conventions for an entire year in multiple cities for FREE and assist the faculty. They chose 3 from Camp Pulse Pop Star division - Kristina was named one of the three!!!